Holiday in Explorer Hotel in the Bad Kleinkirchheim Ski World Cup region
Explorer Hotel Bad Kleinkirchheim
The new base camp for sporty explorers lies between the Nockbergen mountains not far from Lake Millstatt. In both summer and winter, the Bad Kleinkirchheim World Cup region has a lot to offer! When are you coming?
Ready for summer?
The summer will also entice you with many great highlights. The Nockberge mountains were declared a biosphere park by UNESCO in 2013. That is why a particularly rich variety of flora and fauna awaits you here on your hikes. With the "Nockmobil" you can easily reach your destinations. The rides are organised via a central office and you are driven to the desired stopping point - a flexible and demand-oriented mobility system. In addition, there are many great lakes in the area, such as Lake Millstatt (23 minutes by car from hotel), Brennsee lake (18 minutes by car), Lake Wörth (about 45 minutes by carl) which are ideal for swimming and windsurfing.
nock/art trails
Combine sport and nature with art and culture in Bad Kleinkirchheim! You will find many new and modern works of art by renowned artists on six exciting nock/art routes. Let yourself be inspired and discover the Nockberge mountains biosphere park and the Kirchheim valley in a new way. Whether you want to take an enjoyable walk through the village or experience an exciting summit tour - everything is possible. The App-nock/art-Guide is a useful digital guide that will provide you with all sorts of helpful information about the nock/art routes.
Biking in the Bad Kleinkirchheim region
FLOW COUNTRY TRAIL
Holiday for active winter fans in the Bad Kleinkirchheim Ski World Cup region
Come on over and let yourself be transported from Bad Kleinkirchheim and the surrounding ski areas into skiing fever. Over 230 km of slopes are just waiting for you to discover them! With the famous World Cup downhill run, the fun park and the spa right at the foot of the station, the Bad Kleinkirchheim ski area leaves nothing to be desired. When you buy a day ski pass, you decide whether you want to book a 3-hour spa on your lift ticket, so that you can go swimming without any detours after skiing or relax in the Explorer Hotel in the Sport Spa.
No matter if you are a powder fan, a slope lover or a motivated beginner - the Bad Kleinkirchheim ski region makes all skiers' eyes shine! Just take a look and see for yourself.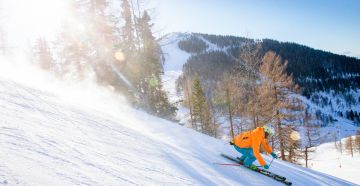 Turracher Höhe ski area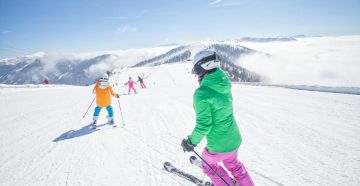 Heidi Alm ski area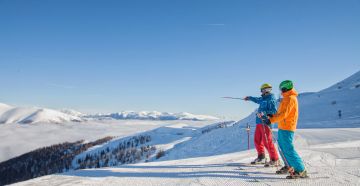 Ski area Gerlitzen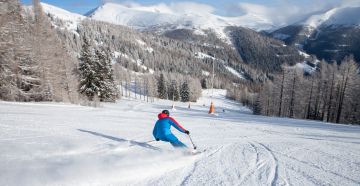 Ski area Goldeck